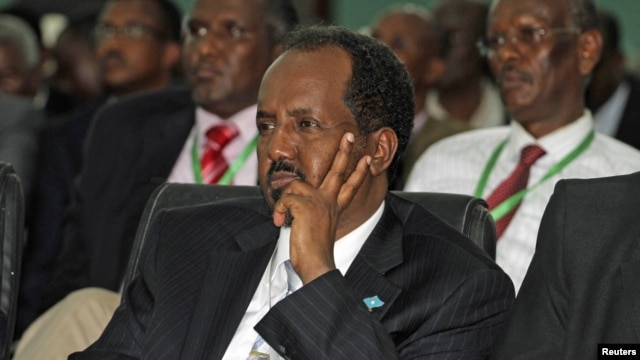 Somalia's newly elected President Hassan Sheikh Mohamud listens to proceedings after winning the election, in Mogadishu, September 10, 2012.
Somalia's new president is safe after two suicide bombers attacked a Mogadishu hotel where he was speaking.
VOA correspondent Gabe Joselow, who was at the site of the attack, says two bombs detonated outside the Jazeera Hotel Wednesday as Somali President Hassan Sheikh Mohamud and Kenyan Foreign Minister Samson Ongeri talked to reporters inside.
Militant group
al-Shabab
claimed responsibility for the bombings in a Twitter message about two hours after the attacks.
​​VOA Somali service reporter Seynab Abukar said the first bomb was a suicide blast at the gate to the hotel complex, and the second was a car bomb. She also said AU troops opened fire on several suspected attackers who tried to get in the hotel.
Several people were killed, including the two bombers, and several others injured.
The Somali president and Kenyan delegation were unharmed and later esorted out of the hotel to an undisclosed location.
Mohamud was elected president by Somalia's parliament on Monday. The election was the final step of a U.N.-backed plan to bring a stable central government to Somalia.
The
Horn of Africa
country has endured two decades of chaos and conflict since the last stable government collapsed in 1991.
Last month, Somali leaders adopted a new constitution and installed a new federal parliament and speaker.
In a statement late Tuesday, U.S. Secretary of State Hillary Clinton congratulated the Somali people for their steps toward a new government. She said the U.S. remains committed to helping the new government strengthen democratic institutions, and improve stability and security.