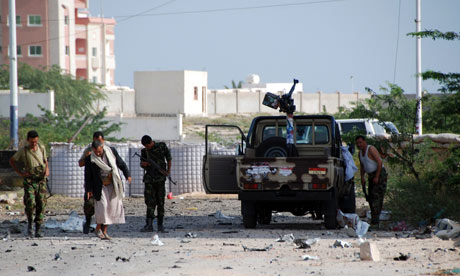 Yemeni security guards inspect the the road outside presidential
palace in Mukalla where a suicide bomber blew up a vehicle
killing 25 people. Photograph: -/AFP/Getty Images
SANAA, Feb. 25 (Xinhua) --
The Yemen-based
al-Qaida
wing claimed responsibility for a car bombing attack on the presidential palace in southeastern province of
Hadramout
on Saturday that left at least 32 Republican Guards killed, in a statement obtained by Xinhua.
"The
Al-Qaida in the Arabian Peninsula
(AQAP) carried out the ' martyrdom' operation against the Republican Guards in Mukalla on Saturday in revenge for the continuing crimes by the government's elite forces," it said in the statement, hours after the suicide car bombing attack took place.
A local security official said the death toll from the suicide car bombing attack on the presidential palace in Hadramout's provincial capital city of Mukalla on Saturday rose to 32 and dozens of others were injured.
The suicide bomber is a Yemeni AQAP militant in Hadramout, the official said.
The car bomb went off at the gate of the presidential palace and was followed by heavy machine gunfire launched by the AQAP militants against Yemeni soldiers, according to the security official.
Hadramout province, about 794 km southeast of the capital Sanaa, has seen sporadic shoot-outs and motorbike attacks against intelligence officers for the past few months. The al-Qaida off- shoot had claimed responsibility for several of such deadly attacks.
The suicide bombing attack happened just several hours after President-elect
Abd-Rabbu Mansour Hadi
took the constitutional oath at the parliament, after a landmark vote this week initiated in a Gulf-brokered power transfer deal.
Former Yemeni President
Ali Abdullah Saleh
returned to Sanaa early Saturday after he finished medical treatment in the United States and he is expected to attend Hadi's inauguration scheduled for Feb. 27.
On the eve of the presidential polls, the AQAP released a statement claiming responsibility for several assassination attacks in January.
During the presidential polls on Tuesday, Yemen's southern regions witnessed severe clashes between security forces and pro- separatism militants which left seven people killed and 77 others injured.
Yemen's southern and eastern regions have recently been rocked by a string of suicide car bombings targeting government buildings and military officials. The authorities usually accuse the AQAP militants of committing the crimes.
Newly-elected President Hadi vowed to strengthen security and intelligence cooperation with the United States in combating the AQAP that threatened the daily oil shipping routes in the Red Sea and the Gulf of Aden.