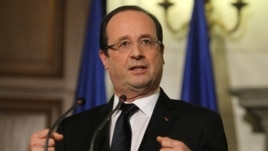 Seven French tourists, including four children, have been kidnapped in Cameroon by what French President Francois Hollande says is a Nigeria-based "terrorist group."
During a visit to Greece on Tuesday, Hollande told reporters that he believed the gunmen had crossed the border from Cameroon into Nigeria with the hostages.
"The most likely thing is that they have been taken to Nigeria," he said. "We are doing everything in our power to prevent them [from] being captured and trapped in this country. But we warn also all the tourists that are in the area of Cameroon to avoid exposing themselves [to such dangers]. But we also have to do everything to find our compatriots."
The seven hostages are members of the same family. The French energy firm GDF Suez says one of its employees based in the capital, Yaounde, was abducted along with his family while on vacation in northern Cameroon.
The incident occurred a day after the Islamist group Ansaru claimed responsibility for kidnapping seven foreigners in northern Nigeria.
Those captives, employed by a Lebanese-owned company, were taken hostage when gunmen stormed a construction site in Nigeria's Bauchi state.
Ansaru also claimed responsibility for kidnapping a French national in December.
The group said both incidents were motivated by what it called the European Union's transgressions against Islam in countries such as Mali and Afghanistan.
France sent forces into Mali last month to help drive out Islamist militant groups that controlled the country's north and were moving in the direction of the capital, Bamako.
Western countries have expressed increasing concern about Nigerian militant groups linking up with similar groups -- especially al-Qaida's North African branch,
al-Qaida in the Islamic Maghreb
.
Nigeria's best-known militant group is the Islamist sect Boko Haram, which is blamed for more than 1,000 killings since 2009.
Some information for this report was provided by AP, AFP and Reuters.from VOA News

February 19, 2013