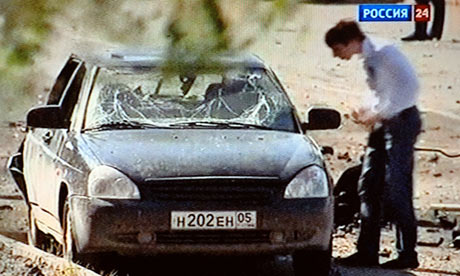 (Reuters) - A suicide bomber blew herself up in car near a police building in Russia's Dagestan region on Saturday, injuring 11 policemen and passers-by, Russian media reported.
Dagestan, an ethnically mixed, mostly Muslim region between Chechnya and the Caspian Sea, has become the most violent province in the North Caucasus, where insurgents say they are fighting to carve out an Islamic state out of southern Russia.
The bomb was detonated after police stopped the car to check the driver's documents, some 100 metres from the regional police ministry in the centre of Makhachkala, the regional capital.
Police sources told local media the only person killed was the bomber, whom they identified as the former wife of two militants. It is not unusual for women to carry out suicide bombings in the region. They are often the widows of militants.
Two policemen injured in the blast were in a critical condition, police said, with nine other people requiring hospital treatment.
There has been a surge in violence in the region in recent weeks. The latest attack comes days after two car bombs in Makhachkala killed four people and injured dozens more on Monday.
At least 405 people were killed in Dagestan in violence linked to the insurgency last year, according to the Caucasian Knot website, which tracks developments in the region.
Russian President Vladimir Putin has ordered law enforcement authorities to ensure insurgents do not attack the 2014 Winter Olympics next February in the Black Sea resort city of Sochi, which is close to the North Caucasus.
from REUTERS
MOSCOW | Sat May 25, 2013 12:39pm BST
(Reporting by Jason Bush; Editing by Alison Williams)