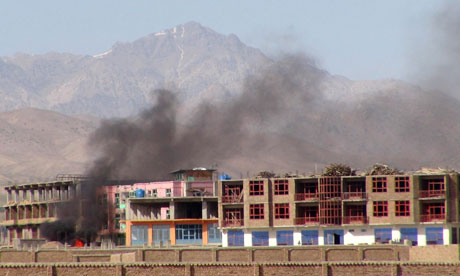 continues updates on twitter:
heli's target building with one suicider."@badpaddy: What a show from the Blackhawk. Nice 2 runs, well on target."
— Bette Dam (@BetteDam) April 15, 2012
more videos at the bottom:
reuters, telegraph, rt, pajhwok, tolonews
Kabul, Afghanistan (CNN)
-- A series of explosions rocked central Kabul early Monday, the day after Afghan security forces said they repulsed a series of insurgent attacks in the capital and three other provinces.
The blasts followed periodic gunfire that lasted well into Sunday night in the Kabul district that houses allied embassies. But Interior Ministry spokesman Sediq Seddiqi said the remaining insurgents "have no choice except surrendering or to be killed by the Afghan forces."
"They came today with more than 20 insurgents and suicide bombers and attacked four provinces," Seddiqi told CNN Sunday. "As a result, they got nothing, and 19 of them were killed."
The U.S. and NATO commander in Afghanistan, Gen. John Allen, said the Afghans beat back the insurgents without allied assistance.
"They were on scene immediately, well-led and well-coordinated," Allen said. "They integrated their efforts, helped protect their fellow citizens and largely kept the insurgents contained." He said the attacks were meant to signal "that legitimate governance and Afghan sovereignty are in peril," but the Afghan response "is proof enough of that folly."
Seddiqi said two civilians were killed across the country, and 15 Afghan police officers were wounded. He said 15 of 19 suicide bombers were stopped before they could blow themselves up, with most of them killed by Afghan security forces.
And Lutfullah Mashal, a spokesman for the National Directorate of Security, said three men arrested in Kabul confessed to plotting to kill Karim Khalil, Afghanistan's second vice president. Two of the men planned to blow themselves up in Khalil's home, Mashal said.
The Taliban militia that once ruled most of Afghanistan claimed responsibility for the attacks, saying it launched fighters into battle with suicide vests, RPGs and hand grenades in Kabul and the provinces of Nangarhar, Paktia and Logar. But Mashal said the three men who targeted Khalil confessed to being members of the Haqqani network, a separate insurgent group that sometimes allies itself with the Taliban.
Related articles